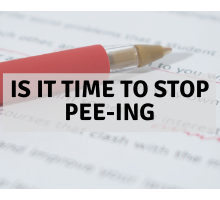 Several years ago I participated in a piece of classroom research into how essay writing is taught in English. It was a honour for me to add my voice to this conversation. Before the 2015 specification, the keys to success in exams for essay writing appeared to be about reduction and concision, rather than detail and breadth. There was one year when some students were encouraged to draw a PEE table onto the exam paper!
The conversation has moved on a great deal in the intervening years. The voices in Team English had add some fantastic alternatives. If you are looking to develop your teaching of essay writing, then a fantastic first point of call is Becky Wood's (@shadylady222) blog Why I No Longer PEE.
If you are interested in reading my NATE article on PEE – then you're in luck. They have very kindly agreed for me to share it here. So thank you NATE – while I am on the topic, do have a look at their website.
So here is my article. Just click on the image below to read the whole thing.