If you've never heard of the novel Once by Morris Gleitzman then I challenge you to go and read it now. I'll make it easy – here are the Amazon links! For US readers click here and for UK readers click here (these are affiliate links). Once tells the story of a young Jewish boy named Felix, the year is 1942 and the Nazis have invaded Poland. Felix believes his parents are in danger and sets out across occupied Poland to save them.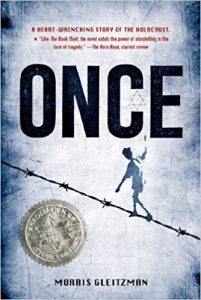 We teach Once to our newly arrived secondary students – year 7s – they are aged 11 and 12 years old. It is a fabulous novel for the secondary classroom: short, pacey, with strong characters and unexpected twists. The story is grown-up enough that my newly-minted secondary students are shocked by some of the events. It captures them with a mixture of horror and fascination. We live Felix's adventures: this young boy speaks our language, we make mistakes and discoveries with him.
For a teacher, Once is the perfect text – I get to dive deep into history and explore why and how the invasion and occupation of Poland became history's most horrifying genocide. I get to talk about prejudice, racism, violence, and fear with a group of students are just beginning to see the world through growing-up eyes. I get to discuss bravery, courage, kindness, and friendship in the midst of horror, and show our kids that they can be heroes in their own lives.
I cry every time I teach Once. I read it aloud to my students and there are two points in the novel where I outright cry – every single time. I've got used to it now. I don't try and cover it up. I use my reaction – as a mum to the death of a child – to talk about why this fiction-based-on-reality is so wonderful and hard. We talk about why history and truth are important, why stories should be told, and why books are the secret to understanding the world we live in.
Last year I taught Once to a particularly disillusioned group of students. I was hard for me to meet 11 year-olds who already had the cynicism of adults, who thought death was funny, and prejudice acceptable. I just hoped that Felix might reach them. There is a point towards the end of the novel when I show some YouTube clips of Auschwitz and we talk in detail about what happened in the death camps. The following conversation sits in my memory like it was yesterday.
Student: Hold on, miss, is this real?
Me: Real? As in – did this really happen? Is this true? Yes.
Student: What?! Really. This actually happened?
Me: Yes. Between 1939 – 1942 nearly six million people were killed in these camps, that's about the population of London.
Student: Why didn't anyone stop it?
Me: Well, it appears that not many people outside knew about these camps. They were discovered once the Nazis were defeated and the Allies were pushing into Germany and Poland.
Student: We really *bleeped* up history back them, didn't we miss? We can't let it happen again.
Eighteen months on, I still teach these kids and we often talk about "never again". What are all the things that we would say "never again" to if we had the chance? Reading Once gave me this opportunity with these kids and I treasure that. Another secret joy for my English teacher self is that Once is the first of a trilogy and I can't tell you how many of my students scramble to borrow my one precious copy of book two.
If you are looking for a new book to add to your curriculum then Once should definitely be one to consider.
Subscribe to my weekly teaching tips email!
Sign up below to receive regular emails from me jammed packed with ELA teaching tips, tricks and free resources. Also access my free resource library!
Hidden Content