As I got ready to 'go back to school' this autumn, I found myself tempted to buy all-the-things.  I work hard to control my spending impulses, after all, I already have too many things in my classroom. I don't need anything more, really I don't.
So this year, I decided that I would choose 5 things I used (or loved) the most in 2017. And so, here's my list… enjoy!
1. Post-it note tape
Every teacher loves a post-it note, right?! Well, I ADORE post-it note tape (see below). I use this tape for a thousand things. I use it to move to-do items around in my planner; I put notes on my wall calendar; I use it to annotate texts; leave notes on students' work and desks. As this tape is 'tape-shaped'; it has the advantage of being smaller than a post-it note and it is sticky all the way across so there is no chance at all of it being lost!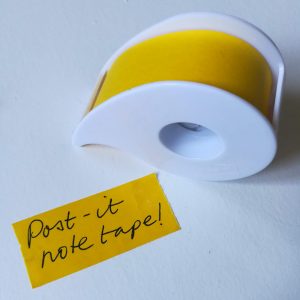 These are the links for post-it note tape:
UK link https://amzn.to/2AJAlXW  USA link https://amzn.to/2M1W8ic
Please note these are affiliate links. You should know that this item will not cost you any more or less than it would if you found it through the usual search function. I do receive a small commission for anything your order using these links. 
2. Cute paper clips
I know, I know, these paper clips are not entirely sensible. But I love these cute paper clips. I have 100s of them and use them for everything from tagging papers for grading together, to handing work back to students. There's just something about using these paper clips that makes me smile.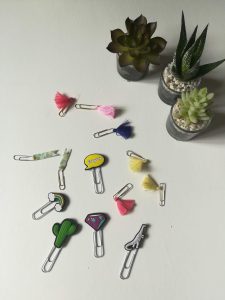 Here are a few of my favourite animal paper clips!
UK link https://amzn.to/2OMCvIF US link https://amzn.to/2Mx34nK
3. Wire Mesh Messageboard
Most of the boards in my room are pretty static throughout the year. I use them to display work on particular ideas or texts we have studied but they don't change regularly – partly because I don't have time, mostly because they don't need to. My students study texts for two years, so the information stays relevant.
However, I do have one board that I change every day. My wire mesh messageboard sits behind my desk and I like to use it to write funny messages for my students. I put up photos, memes, inspiration quotes, and amazing pieces of work. I also use it for our word of the day (today the word was 'yield') and for our debate topic of the day.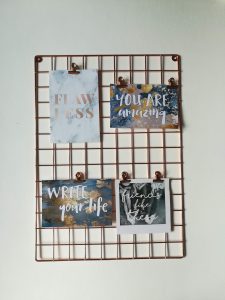 My message board is pretty small. If I bought it again, I would get a bigger one! Check these ones out…
UK link https://amzn.to/2vCSNfg US link https://amzn.to/2M1V8KY
4. My ECO coffee cup
If you follow me on Insta (find me here), it won't come as a big surprise that one of my 'essentials' is a travel mug. I teach a lot of classes. Nine in fact. That's a lot of talking every day. My ECO cups (yep, plural) are what keep me going. Especially now that it is getting cold and I am wanting warm drinks because the heating doesn't work!
UK link https://amzn.to/2R8j0vV  US link https://amzn.to/2zDZfpo
5. All the stickers
I use stickers a lot in my classroom. Yep, teenagers love stickers. I use them to track excellent written work, I put them on the back inside cover of the notebooks (so my teen boys don't get embarrassed) and then I send a positive letter home for every 5 stickers.
So with approximately 220 students coming through my classroom each week, I get through a lot of stickers. And I mean A LOT!
Here are just a few of the stickers I've used already this year!
I buy stickers from all over the place. I am an expert at spotting super cheap ones wherever I can. Of course, occasionally that means Amazon is my friend. Here are my go-to online sets.
UK link https://amzn.to/2DEOF5E US link https://amzn.to/2zD4HJ7
I'd love to know what the essentials are in your classroom! Why not drop me a note in the comments below?!