This gorgeous reading display is perhaps one of the best things I've added to my classroom in ages. And not just because I get to play Carly Ray Jepson songs in class… I cannot claim the idea is mine. But I do adore how it turned out!  Here's how I went about it and how you can swipe the download!
This week I updated the display in one pokey corner of my classroom. It's one of those things that I had been meaning to do for a-g-e-s. But because the space was generally well hidden by the 5 tonnes of stuff I accumulated last year, it hadn't been a high priority. Karma happens, though right? We had visitors in school and my classroom needed to be pristine. Or prestige, as my students would say!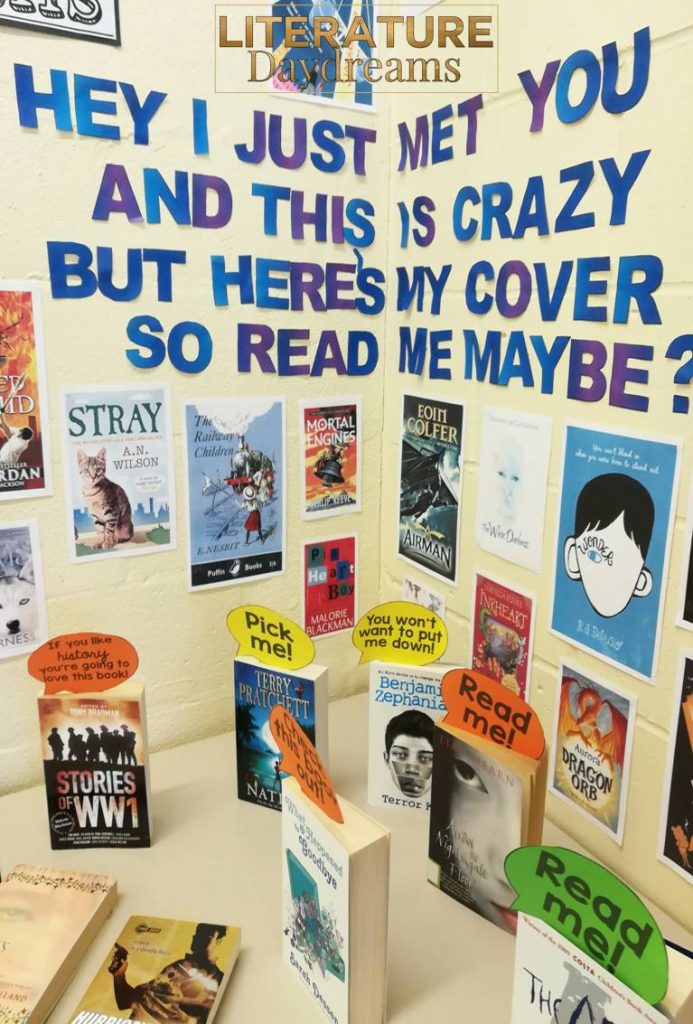 This cute rhyme is a play on Carly Ray Jepson's song "Call Me Maybe".  All my students 'got it' as soon as they saw the wall. They groaned and shook their heads, enjoying a moment of teenage indignation. I then asked them for their best book suggestions. So it's their book recommendations, plus a few from my colleagues, that I placed around the rhyme!  Read on to see how I made it and to swipe my files!
Before I get into the practical details – I wanted to give a shout out to the amazing Jessica Lawler from Joy in the Journey. Check out the 'Read me!' and 'Pick me!' labels in my books! Don't you just l-u-r-v-e them!! They are also a sweet treat of free download, Jessica has them on her TpT store and you can download them for free >>here<<.
Ok, ok. I know what you want. Here is how you can get stuck into this in your classroom. It really is as simple as 1 – 2 – 3.
Grab the swipe file with words typed out and ready to go. It is a PowerPoint file so make sure you can open it on your computer.
Change the colors to suit your classroom decor.
Print and laminate (you can totally see I didn't have time to do this!)
Cut out and pin up.
Ask for book recommendations, grab the covers and print.
Cut and pin these up too!
Stand back and enjoy!
So all you need to do now is get the SWIPE file!
Transform your reading corner!
Love reading in your classroom with this fun reading display! Download your freebie now and click to receive regular ELA teaching tips, tricks, and ideas!
*I send emails with teaching tips, tricks, and free resources to my subscribers regularly. I value your privacy and you can learn more about how I handle your data in our private policy. You can unsubscribe at any time.