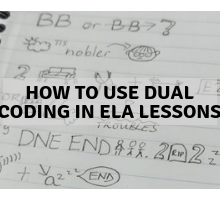 This activity is great to use with any class and almost any topic area. It makes sense, doesn't it? To mix words and visuals to aid memory. Our students now need to memorize and to retrieve information for testing than ever before. Dual coding is one way to help students remember.
What is dual coding?
Dual coding is combining 2 ways that the mind remembers things – most commonly in the classroom – this is words and visuals.
Here you can see the beginning of Hamlet's famous soliloquy "to be or not to be". The challenge for students was to come up with as many visuals to replace the words in the speech as possible. They could be as creative as they liked – as long as they could read the whole speech based on what they produced. You can see the word "whether" is replaced by the sun and cloud and the word "suffer" is replaced by a sofa! The aural closeness of these words is the memory trigger.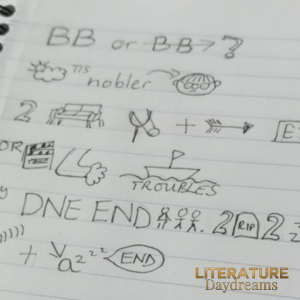 This activity isn't a quick crafty task or something for a Friday afternoon. It took my students a good hour to think through each word in the speech and then work out how to visualize it. This close attention to the text is just another memorization technique. The very work of recreating it, helps us remember it.
I first did this activity with a group of students 5 years ago. They are now in their final year of education and English hasn't been compulsory for the last 2 years. But when I see these kids around the school – they still love to show off for me how much of this soliloquy they can remember. So they have been through 4 full school years since they learnt this speech and they can still remember it. Dual coding works!
Here are some ways you can use dual-coding in your classroom:
At the beginning of the year when you agree your classroom rules and procedures with students, use dual-coding to help students remember the rules. Even just a small card with one image on it can be an excellent memory trigger. Have your students create those visuals for you.
Use dual coding as one of your stations or center activities, to review everything learnt in a particular lesson or unit.
Ask students to dual code some knowledge or information at one particular center or station, then have other groups translate the dual coded work at another station or center.
Use dual coding as a way to remember key concepts in grammar, spelling, punctuation rules, or maths.
Give dual coded information as a starter or bell ringer task and ask your students to translate or explain it.
Ask your students to dual code as a homework task.
Here are some ways you can use dual-coding as a literature activity:
Visual note-taking or dual coding makes sense for lots of literature activities: to summarise the action of a text, to look at a character, a theme, or a setting.
One-pagers are super popular at the moment for helping students review what they have read. You can read more about them here (on my friend Betsy's blog).
Use dual coding as an annotation tool for annotating or making notes on specific themes or concepts. Assign each theme or idea a symbol, then annotate this in the text and also track it in notes.
Create infographics to explain ideas in a text.
Use dual coded timelines to review the events in a story.
Assign each literary device a symbol and use this to annotate a passage.
Symbols are also great for annotating emotions, mood/atmosphere, authorial intention, social and historical context.
I teach symbols and literary devices when I am covering creative writing – we use them as marking codes as well. Then we also use the same codes for our literature units. Then we layer them up as we read through the text. Does that make sense?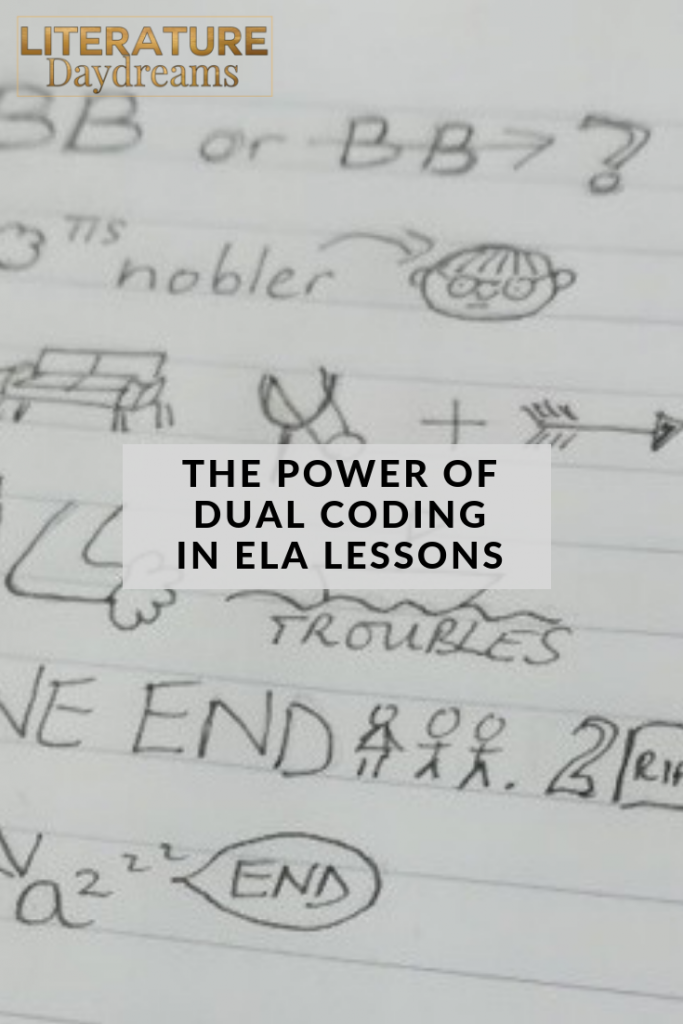 If you are looking for other fun and engaging activities to use in your ELA classroom, why not check out these blog posts:
Also, each week I send an email out to my teacher-friends, in this message, I include one classroom activity (like the perfect review game) and one literature activity (like this blackout writing activity). They are always fun, engaging, and designed to create brilliant learning moments for your students. If you would like to receive this weekly email (I send it on a Sunday morning – ready to help stave off those Sunday scaries), then all you need to do is fill out the email sign up below!
Subscribe to my weekly teaching tips email!
Sign up below to receive regular emails from me jammed packed with ELA teaching tips, tricks and free resources. Also access my free resource library!
Hidden Content