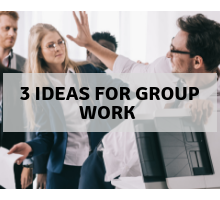 Do you want your teenage students to be more active and engaged in group work? Well, this blog post has some group work gems. These activities are guaranteed to get your students moving, keep them engaged, and get them more involved in their learning!
The human photocopy
This activity is exactly what the title suggests. You turn student teams into human photocopiers! They work in groups to create an exact copy of a document you give them. This is great for teaching new material, reviewing prior learning, or consolidating your current unit.
Decide the topic and content
Before you begin, you will need to decide what you want your students to recreate. I usually create A3 sheets with information that I want my class to understand.
Each sheet needs to contain a mixture of images, labels, short phrases, and text written in long form. I don't produce these to be beautiful (this is partly the point). They are often handwritten and my own drawings to make them a little more tricky to recreate!
Sometimes I give all the groups the same sheet to reproduce. Sometimes I give them different information sheets to reproduce and then teach the rest of the class (a bit of reciprocal teaching is always good)!
Here's what comes next!
Take 5 A3 sheets of information, place these facedown at the front of my room.
Put students into 5 teams. Give each team member a number, say 1 – 6. Each team needs a table to work at, their own piece of A3 paper, and pens/pencils etc.
The aim is for each team has to recreate their allocated original sheet. They become a literal human photocopier.
I will call out 'number 1s go!'. Each of the team members who has number 1 will come up to the front. They then have 20 seconds to look at the image before they have to turn it back over, return to their table, and recreate as much as they can remember.
I will then call out 'number 2 go!'.
So each team member takes it in turn. At any given time, one team member will be at the front memorising the information sheet. While the others will be working on their copy at the table.
They have to work together to recreate the whole text. All the while remembering what they have added already and what is missing.
Depending on your class, you may want to let each number go twice. Or you can give the whole team 30 seconds to look at the entire image and another minute to finish it.
After the activity, each group has to present the information they 'human copied' to the class and explain the ideas etc.
This activity is a great way to review information and ideas, as well as work on short/long memorisation of key knowledge.
Race the horses
This super-simple strategy helps you manage team or group work but with a twist! It creates a sense of competition and can help keep students on task.
It is really simple – just click to download this PowerPoint slide
Then set up your group or teamwork as you usually would. This time use the racehorses to track the progress of each team. The team that completes all the tasks first wins 20 pts (or whatever you choose).
I have made the file completely editable so you can adjust it to fit your classes. The clipart is royalty free.
Dry Erase Table Debate
If you follow me on IG (please do!) – then you have probably seen me talking about the power of letting students write on your desks!
Yep, I said write on your desks. Of course, what I should have added was – with a dry-erase pen. This group work idea takes writing on the tables to another level.  All you need to have to run this group work activity is dry erase pens for your students!
Ok, so how does this dry erase table debate thing work?
First, I tack a discussion question or debate topic to the centre of the table.
Now the debate part can work in a couple of ways: sometimes I give each student their own color dry erase pen and they have to debate/discuss on their table. Each student notes down all the ideas as they go. They can build on each other's ideas, challenging, changing noted etc. But all their discussion must be written down.
OR you can give each table just one color to work with. They can debate and write notes as above – then – get up and they go to another table (with a different topic) and add their own ideas, questions, and challenges to that particular discussion.
This is a really great strategy to use for classes who get distracted during group discussions, or where some students opt-out of participating (they can scribe). I just take a photo of the debate, quick print, and they stick in their notebooks!
Did you love these 3 group work ideas? I share teaching tips with my teacher-friends every Sunday via email. My "Making Sense on Sunday" email goes out each Sunday morning and it contains one classroom activity (like the ones above) and one activity to use with any reading or literature text. If you would like to hear my teaching tips first, then sign up below!
Subscribe to my weekly teaching tips email!
Sign up below to receive regular emails from me jammed packed with ELA teaching tips, tricks and free resources. Also access my free resource library!