Reading literature is a huge part of English and ELA lesson time. Whether you are reading articles, short stories, or studying Shakespeare – it can be difficult often to find tasks that have the ability to engage and challenge students. I was finding that I was setting the same boring worksheets again and again. Fill out a table. Answer these quiz questions. While these are all fine. I wanted something more for my students. That is why I decided to create a set of task cards just for my literature texts.
What are literature task cards?
Very simply these are a set of printable task cards with activities on that students can complete independently or in groups. All I had to do was print them once, in colour, and laminate them. Now I can take them out 4 – 5 times a week and use them with different classes.
The cards I created (and there is a free download here) are based on Blooms' Taxonomy. There was no particular reason behind this, other than that I wanted to cover a range of skills. Some people treat Blooms' like it is a hierarchy.
I didn't want the task cards to be like that. Each of the tasks, I created 60 in total, are designed to get my students thinking. None is better than another.
How to use them in the classroom:
Give different cards to individual students after reading an excerpt or during your normal reading lesson. Each student completes their individual task. Of course, you can use this as a quick win for differentiation!
Turn them face down and have students select without knowing. They could work individually or in pairs to complete the task, this way no one will be able to keep picking the same task over and over.
Select one level: say comprehension or synthesis. Then just give out the tasks from this level to really focus on developing one skill set
Give a pupil one card from each level (so every colour) and have them work through to work on a range of skills.
Obviously, these are great for collaborative work. Assign them to pairs or groups. Then students can work collaboratively or independently at first and then share their ideas.
They are also great as starters, plenaries, challenge tasks for early finishers, and homework tasks.
Use them as part of a centers or stations rotation. Using the worksheet to help students keep a record of their work!
Interested in downloading 10 tasks cards to try for free? Just click here!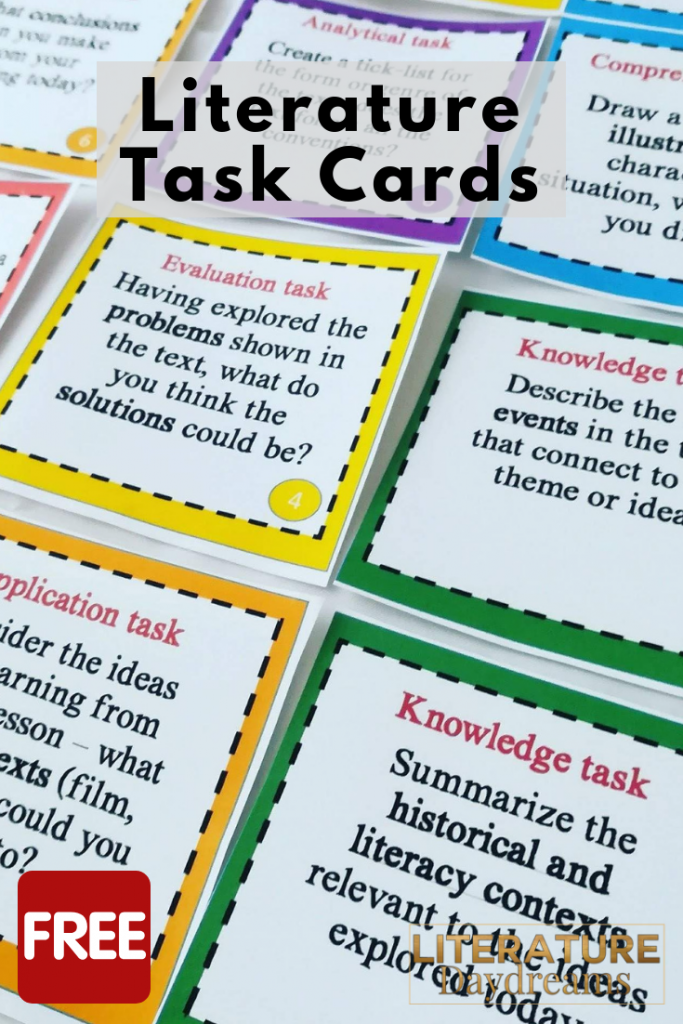 If you love this activity – then sign up for my weekly "Making Sense on Sunday" email where I share two teaching ideas each week that you can use in your classroom straight away!
Subscribe to my weekly teaching tips email!
Sign up below to receive regular emails from me jammed packed with ELA teaching tips, tricks and free resources. Also access my free resource library!